ENNEAGRAM
If you have determined for yourself that you want to make a change and tackle something in your life in order to develop further, then you have already taken the first and most important step. You want to address it actively – and I congratulate you on that.
And wih this the most important question arises: where do I actually start and how? This is exactly where the Enneagram helps us! It is THE tool to get tot he bottom of your issues as well as subconscious motivations and behavior patterns, to understand and accept them and then to work with them consciously. Self-understanding and self-reflection are the basic elements for your positive development.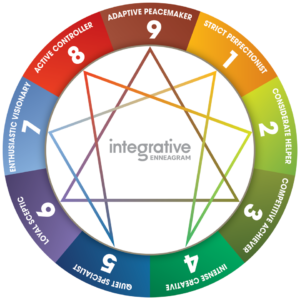 What is the Enneagram?
The Enneagram is basically a map or guide that contains profound insights into personality development. It consists of 9 types, 18 so-called "wings" and 3 subtypes – whereby no categorization takes place here, but from a neutral point of view ways to self-knowledge or self-awareness can reveal themselves. If one is aware of the identified patterns and motivations, these can be used profitably.
How does the Enneagram work?
With a questionnaire of 175 questions, which has been continuously perfected for more than 8 years, exceptionally precise reports and profiles of individuals as well as teams can be created. These are quantitatively researched (question) criteria that arrive at a very reliable result using highly developed algorithms and predictive analytics. At the same time, no claim is ever made to absolute accuracy, because no personality analysis is perfect. Nevertheless, the IEQ9 is the best analysis currently available.
If you would like to learn more about how you can use the Enneagram for yourself, please contact me and we will talk about it.
Why do I work with the Enneagram?
I have been looking for a tool to help my clients as quickly as possible for a long time. I wanted to find something that would save them time and therefore money. When I found the iEQ9 Integrative Ennegram, I was at my goal. It is an assessment that is dynamic and not static. It is the perfect tool to support you in becoming the best version of yourself.
To support your process I have developed diffrent programs using the iEQ9 Enneagram Assessment.
Contact me for futher information
"Before the truth sets you free, it tends to make you miserable."
― Richard Rohr